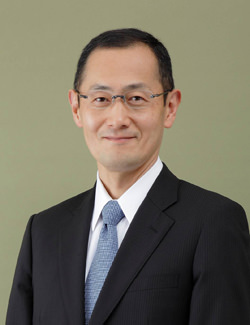 There is no city in the world like Kyoto. Ancient and modern, traditional and hip. Everyone who comes finds something they have never experienced anywhere else.
Dr. Shinya Yamanaka
Director/Professor, Center for iPS Cell Research and Application, Kyoto University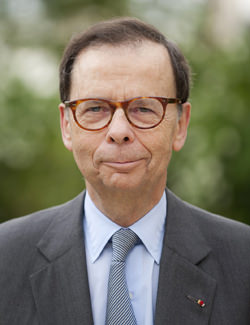 Kyoto,with its blend of monuments and nature inspires participants with peace, beauty, openness and wisdom.
Mr. Louis Schweitzer
Représentant Spécial du Ministre des Affaires Etrangères Pour Le Partenariat FRANCO-JAPONAIS et Commissaire Général à L'investissement, Conseiller Spécial du CEFJ
Voices of the Organizers
We have received the below comments from organizers of meetings and events in Kyoto.
(Source : March 2014 Kyoto City "Factual Investigation of MICE events in Kyoto City" materials)
Everyone had a wonderful time. Reports about Kyoto were favorable and many participants said that wanted the conference to be held in Kyoto again.
The city of Kyoto was very popular as a city of World Cultural Heritage. I think Kyoto clearly surpasses other cities in this regard.
I feel that the reason over 500 people gathered (more than the meeting's yearly average) was because the city was Kyoto.
There are many tourist spots clustered within the city making it easy to go sightseeing and then quickly return to the meeting venue.
It was great that we were able to call in Geisha that we normally wouldn't have even been able to get in contact with
I acutely felt the convenience of the area around Kyoto Station. It's very easy for people to gather from around Japan. The meeting was fairly long at 1 week in length, but people from the Kinki region were able to come on day-trips without spending the night, and some people could return to their university or office during the meeting.
Kyoto Convention & Visitors Bureau told us a lot about meeting venues, accommodations, reception venues, excursion options, etc., and they really knew what they were talking about. They also introduced a good PCO to us.
The Bureau really helped us. We received various valuable information from them.
The tools including the DVDs, Power-points, etc. that we received from the Kyoto Convention & Visitors Bureau were extremely useful.
Everyone said, 'let's meet in Kyoto again next year!' before leaving.
Voices of the Participants
Over 90% of participants of Kyoto meetings and events have replied, "I want to come back."
(Source:March 2014 Kyoto City "Factual Investigation of MICE events in Kyoto City" materials)
Q.Do you want to come to Kyoto again?(n=882)
●

I definitely want to come again

●

I somewhat want to come again

●

It's hard to say / Not really

●

I live in Kyoto City

●

No answer
It's a place you want to come back to again and again.
It's great fun just walking around the hotel.
Kyoto has a calm feeling unlike other prefectures.
The starting point of Japanese culture.
I'd like to live here.
Love it!
Clean, small, quiet, good place to rest, historic.
The best!
Happy to be here.
72.4% of participants said they were satisfied with the meeting facility they used.
(Graph made using statistics from the same source)
Q.What is your impression of this meeting facility?(n=882)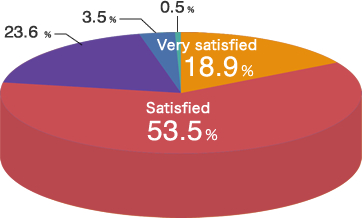 ●

Very satisfied

●

Satisfied

●

Average

●

Not very satisfied or dissatisfied

●

No answer