Dedication to Sustainability
Since its founding 1,200 years ago as the ancient capital of Japan, Kyoto has embodied the principles of sustainability. Surrounded on three sides by lush mountains and resplendent with greenery, Kyoto has protected its natural environment and scenery with strict restrictions on building height and advertising signage. Recycling and garbage separation are universally practiced, and the city has an extensive, easy-to-use public transportation network.
On December 11, 1997, the Kyoto Protocol on global warming was signed at the Kyoto International Conference Center during COP 3, and since then, "Kyoto" has become synonymous with environmental leadership.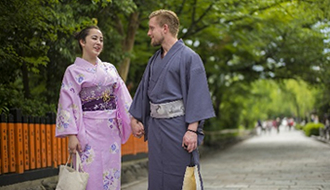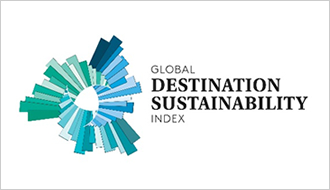 In recent years, sustainability has become increasingly important in the meetings and events industry. In June 2016, Kyoto became the first city in Asia to join the Global Destination Sustainability Index, demonstrating Kyoto's continued dedication to pioneering in sustainability.
By supporting traditional industries and culture and utilizing service providers with certified sustainable practices, the Kyoto Convention & Visitors Bureau strives to maximize the sustainability of meetings and events in Kyoto while continuing to serve as a top event destination.
For more information on how to incorporate sustainability into your event, please contact us at: kyoto@hellokcb.or.jp
Vision and Goals for Sustainability
The spirit of sustainability has always been a part of Kyoto even though the word was not originally a part of the Japanese language. Through the goals listed below, the Kyoto Convention & Visitors Bureau aims to increase awareness among industry partners of the concept and need for sustainability in order to hold more sustainable meetings and ensure that Kyoto continues to be a sustainable event destination.
1. Attract Sustainable Meetings
Attract meetings that prioritize sustainability to Kyoto and create a market and demand for sustainable meetings, particularly those in the fields of environment, science (including medical science), culture, and history.
2. Reduce Kyoto's Carbon Footprint
Promote the use of environmentally sustainable practices, including Kyoto's carbon offset program.
3. Improve Kyoto's Sustainability Performance
Provide leadership and education to industry partners to better understand sustainability from environmental, social, cultural, and economic perspectives.
4. Support Traditional Industries
Protect Kyoto's unique cultural heritage by promoting the use of traditional industries and Kyoto culture in meetings.
*These goals are based off the objectives included in the Kyoto City 2020 MICE Strategy plan established in 2014.
Incorporating Sustainability Into Meetings in Kyoto
Do You Kyoto? – Kyoto City's Carbon Offset Program for Meetings and Events
Offset your meeting's carbon footprint by purchasing carbon credits generated by the local community. Each credit is equivalent to one metric ton of CO2 and costs \10,000.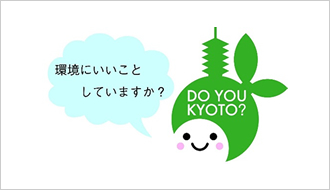 This program was created and is overseen by the Kyoto City government to provide education and incentives to help local businesses reduce their carbon output. Carbon credits are generated by neighborhood associations and small- and medium-sized local businesses in Kyoto who have reduced carbon output by improving their facilities and taking specific measures to save energy.
Enrich your Meeting with Kyoto Culture
Including Kyoto's culture into your event will not only make it a special experience for participants, but also ensure that the economic impact of your meeting directly helps the local community and protects the cultural heritage of Kyoto's traditional industries.
Examples include:

【Performances】
Dance and music performances by maiko/geiko (Kyoto geisha), Japanese traditional music, taiko drumming, etc.
【Food culture】
Sake barrel opening ceremonies, tea ceremony and tea picking experiences, Japanese confectionery-making experiences, etc.
【Traditional handicrafts】
Provision of traditional gifts for delegates, kimono-wearing experiences, visits to artisan workshops for hands-on experiences with potters, bamboo craftsmen, weavers, dyers and textile artisans, lacquerware artisans, etc.
【Custom conference goods】
Collaboration with local artisans to make customized goods such as custom meeting bags made using local textiles.




●Subsidy for Kyoto Culture

 Meetings that incorporate Kyoto culture may be eligible for a subsidy that can cover part or all of the costs. Please note that that various eligibility requirements apply and advance application is required, and that subsidy funds are limited and subject to budgetary approval. Please contact the Convention Bureau well in advance if you are interested in applying for subsidies.




●Kyoto Traditional Handicrafts Rental Program:

 By making use of this program, organizers can not only create opportunities for participants to interact with Kyoto's traditional culture, but also reduce waste and contributed to the SDGs by reusing rental items. Items available for rental include congress bags and other useful meeting goods made with traditional materials and techniques, as well as traditional fans, umbrellas, and other items that can be used as decoration.
For more details, please see the Kyoto Traditional Handicraft Rental Guide.




●Excursions:

  A variety of excursion programs are available that contribute to the preservation of Kyoto's cultural heritage and natural environment, including chopstick-making with sustainable Kitayama cedar or hands-on experiences at traditional workshops with local artisans.
Please see the Kyoto Excursion Guide for more details.
Enjoying Kyoto on Bicycle
Kyoto has a high concentration of world-class tourist attractions and friendly roadways, making it a great city to enjoy on foot or on bicycle. Visitors to Kyoto can enjoy a compact and easy-to-navigate city that is surrounded by lush mountains, dotted with countless green spaces, and bisected by clear rivers.
Public Transportation Access / Kyoto Convention Passes
Kyoto's public transportation network spans across all areas of the city, and 97% of hotels in the city are easily accessed using public transportation. Public transportation in Kyoto is safe, user-friendly, reliable, and on-time, with English displays and announcements. Furthermore, 41% of Kyoto's hotels are located within walking distance of a conference facility, making it possible to plan even large-scale meetings that are accessible by walking and public transportation alone.
Sustainable Suppliers and Service Providers
Please refer to the following link for a list of some of the sustainable suppliers and service providers available in Kyoto. Please feel free to contact us if you have a specific inquiry.
Please contact us using the form below.