Wi-Fi
Kyoto has "KYOTO_Wi-Fi", offering access to Wi-Fi for anyone.
As of Feb. 2015 there are 950 access points in bus stops, subway stations, public facilities, commerce facilities, Seven Eleven convenience stores and the Kyoto Tourism Information Center, etc. This is planned to best expanded to 1,400 locations in the spring of 2015.
KYOTO Wi-Fi Logo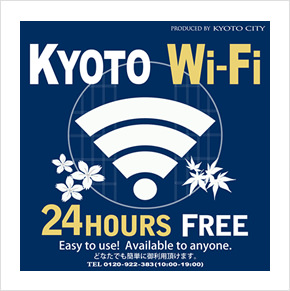 This logo is displayed at each access point.
Furthermore, free internet is available at Kyoto's main meeting facilities.