Kyoto Cuisine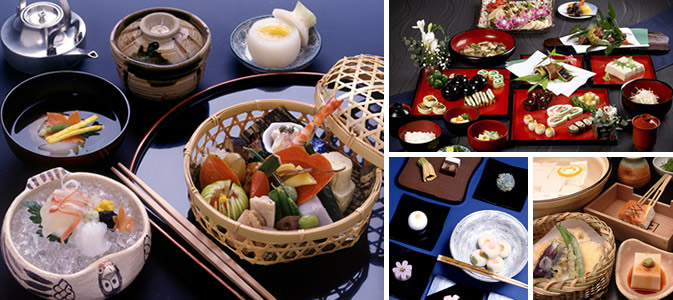 Tradition and Refinement
Kyoto has traditional culinary culture that has been refined over the centuries, marked by: Kyo-kaiseki multicourse Japanese meals, Shojin-ryori traditional food of Buddhist priests, sake, and Kyoto-style sweets. There are also many world-class restaurants in Kyoto.
Variety
There is a wide variety of cuisine available in Kyoto. Besides washoku, or Japanese food, which was designated an intangible culture heritage by UNESCO in 2013, there are also restaurants where one can enjoy other cuisines such as Italian or French, and many reasonably priced eateries as well. Please consult the "Kyoto Official Travel Guide" for more details.
Furthermore, Kyoto has restaurants and hotels that offer delicious cuisine that meets the needs of Muslim guests.
Cooking Experiences
There are cooking experiences available in Kyoto for people who would like to try making food and not just taste it.
"Kyoto Official Travel Guide" Experiences & Tours 'Japanese Cuisine'
Kyoto Convention & Visitors Bureau can introduce companies that provide catering, lunch boxes, etc. at the time of a meeting or event. Please inquire freely.