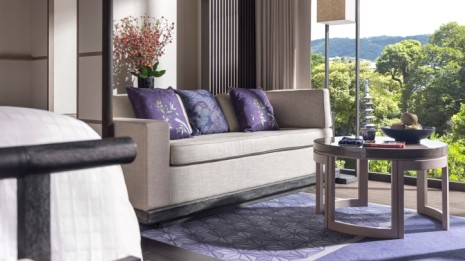 After much anticipation, the Four Seasons Hotel Kyoto opened for business on October 15, 2016.
The Four Seasons Hotel Kyoto is located just footsteps away from many of Kyoto's most beloved attractions including Sanjusangendo Temple, the Gion district, and Kiyomizu Temple. (UNESCO World Heritage site)
The hotel features countless touches of Japanese culture including a 800 year old Japanese garden with a pond and a traditional tea house accessed by a bridge made of glass. The teahouse serves matcha – the ultra-high grade powdered green tea that is used in the tea ceremony, grown exclusively in Kyoto.
Other hotel features include an Edo-Mae Sushi Restaurant produced by Michelin-starred Chef Rei Masuda, indoor pool, spa and the excellent service that four seasons is so well known for.
Guest rooms offer spectacular views of the gardens and surrounding temples. Room interiors are furnished using motifs and colors from Kyoto's history – throw pillows are made using fabric produced by local artisans. Rich purple carpets reflect the era when Kyoto was the capital – purple was the ultimate symbol of elegance and royalty in medieval Japan.
The hotel also offers a ballroom and three conference rooms that can handle groups as large as 340 persons. Full technical and staff support make it a great home for luxury incentive travel and high-end meetings.
 Click here to download this article formatted as a PDF
For more information on the Four Seasons Hotel Kyoto:
http://www.fourseasons.com/kyoto/